EPBS represents more than 250 000 Biomedical Scientists in Europe
Latest News
Biomedical Scientists' important role in Covid-19 pandemic
COVID-19 is nowadays one of the major international health problems. Our social responsibility as members of the society is to contribute to flat the pandemic curve, basically by breaking the infection chain and whenever possible to stay home. Besides being members of our society, we are also health professionals. As Biomedical Scientists we have a major role in the actual scenario, therefore we must bring our expertise to bear here, namely knowledge, skills and competences in several key areas such as virology, infection, molecular biology, biosafety among others. A special acknowledgment belongs to all the Biomedical Scientists that are in the frontline but still behind the scenes, working 24/7 to have accurate results in time. These results are guiding authorities to start preventive actions where needed as well as to contribute to saving lives. When a patient result is positive for SARS-COV-2 (test usually performed by molecular biology) a sequence of other lab tests will be ordered involving several laboratory fields. When COVID-19, in some cases, cause serious complications, is highly important to have patients regularly monitored, involving other blood tests and further SARS-COV-2 testing, that will be again performed by biomedical scientists. We are true members of this health care team fighting COVID-19.
My sincere wish is that soon we will all be good and EPBS's thoughts go to everyone affected by COVID-19 and their families.

#stayhome
Fernando Mendes, PhD
EPBS President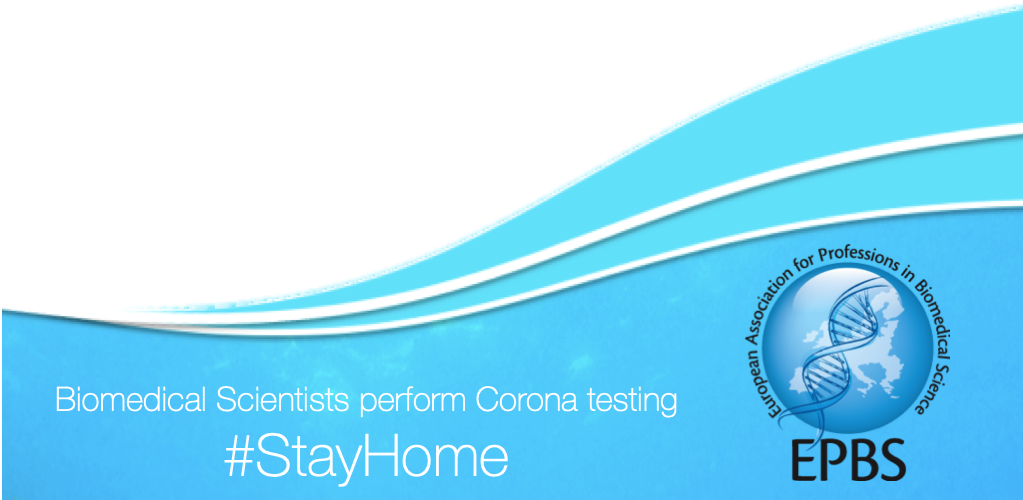 What is Biomedical Science?
70% of clinical decisions are based on the result of a diagnostic test. Patient safety demands that these tests are carried out appropriately by qualified competent staff with due regard to the pre analytical, analytical and post analytical factors influencing the test and its interpretation.
Biomedical Scientists throughout Europe are a group of educated and skilled scientists who are dedicated to the provision of a quality laboratory service for the diagnosis and monitoring of disease.